Floyd and Judy Englehardt, of Le Sueur, Minnesota, are Michigan 4-H alumni from Saginaw and Menominee counties, respectively. They had donated previously to Michigan 4-H, but they wanted to truly make a difference while also making a tax-free donation.
To achieve both goals, the Englehardts decided to make an IRA charitable rollover gift, also referred to as a qualified charitable distribution (QCD).
The Englehardts chose to designate their gift to support general 4-H scholarships for 4-H'ers pursuing post-secondary education. However, IRA charitable gifts can be designated to a donor's 4-H county or a 4-H program area of choice.
"We were both active in 4-H and both offered 4-H scholarships to attend Michigan State University (MSU)," Judy Englehardt recalled. "4-H is a good activity to learn new things and meet other people working towards similar goals."
Floyd and Judy met during their college years at MSU. Judy worked at the State 4-H Office and helped set up for 4-H events on campus. It was during one of these on-campus 4-H events that Judy and Floyd met and later married and had four boys. Floyd earned a bachelor's degree in agricultural mechanization from MSU in 1963 and became an engineer at Green Giant after serving three years in the navy. Judy earned a bachelor's degree in elementary education from MSU in 1964 and became a teacher.
How to make a tax-free IRA charitable distribution
Qualifying donors aged 70½ or older may donate to charity each year by transferring up to $100,000 directly from an IRA.
Instruct your IRA custodian to distribute a gift amount (up to $100,000) directly to the Michigan 4-H Foundation by Dec. 31.
The gift amount can count toward the required minimum distribution (RMD) for the tax year. If you have check-writing features on your IRA, checks must clear your account by Dec. 31 to count toward your RMD for the calendar year.
The entire gift amount qualifies as a charitable distribution. The gift amount is not included in your personal income for federal taxes, lowering your taxable income.
The distribution cannot be considered an income tax charitable deduction. The gift is considered a tax-free gift because the donor doesn't pay taxes on the distribution if it's made directly to a charity.
Distributions can be made only from traditional individual retirement accounts or Roth IRAs. Typically, 403(b), 401(k), pension and other retirement plans are ineligible.
This opportunity ends Dec. 31, 2022, for 2022 tax credit.
For more information, contact Carrie Horstman by email at greenca5@msu.edu.
In 2016, Suzanne Threadgould created an endowment in honor of her husband's life and career with Michigan 4-H. Recently, she made an IRA charitable required minimum distribution gift to grow the fund, increasing the impact for generations to come.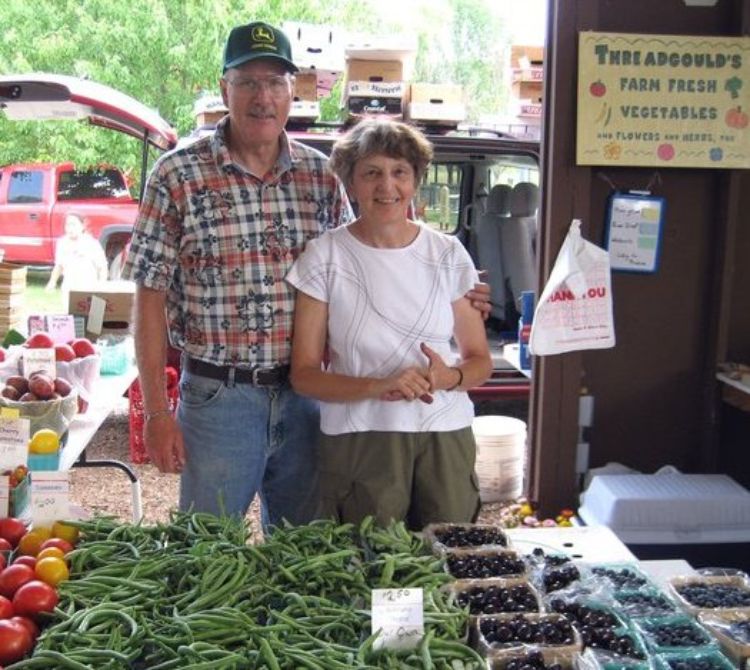 Suzanne Threadgould established the Earl W. and Suzanne Threadgould Endowment for Ingham County 4-H with the Michigan 4-H Foundation in 2016 to honor her husband's life and career with Michigan 4-H. Late last year, Suzanne expanded her gift, increasing the many ways the fund will benefit Ingham County 4-H'ers for years to come.
"My husband had been a 4-H youth agent at one time, and we were always involved with 4-H," Suzanne Threadgould said. "4-H is so good for kids. I think it's important for kids to get involved in 4-H."
An endowment is a fund that is permanently restricted — the corpus of the fund is invested and held intact, and the earnings from the fund are used to support the 4-H program each year. Endowments provide a dependable and perpetual source of funding that, combined with other annual support, ensures that 4-H opportunities are always available for youth.
The Threadgould endowment provides annual support for Ingham County 4-H youth leadership and recognition. The fund may also be used to support out-of-county 4-H experiences for youth and to encourage and recognize 4-H youth engagement and leadership in Ingham County.
"I decided now would be the time to do it," said Suzanne. "My husband always wanted to give back to 4-H."
Earl was a long-time Wayne County 4-H member and earned his bachelor's degree from the Michigan State University College of Agriculture and Natural Resources. After college, he served in the Peace Corps, traveling to El Salvador to work with the Central American 4C program, the sister program to 4-H. Earl and Suzanne met and were married while serving in El Salvador. They returned to Michigan and Earl pursued a master's degree, while Suzanne went back to earn her education degree, both from MSU.
Earl continued his service to 4-H by becoming a 4-H youth agent with MSU Extension in Ingham County for 25 years. He also served as president of the Michigan Association of Extension 4-H Youth Staff and helped facilitate hosting the National Association of 4-H Youth Agents Conference in Michigan in 1996. Earl was an avid gardener and market master of the Meridian Township Farmers Market for over 20 years. The Threadgoulds were well-known for Threadgould's farm-fresh vegetables, flowers and herbs.
Suzanne taught elementary school in Mason and Holt, Mich. mostly as a substitute teacher, but had a few longer-term positions over the years. She enjoyed working with children, and as such served for many years as the administrative 4-H volunteer leader of the East Alaiedon 4-H Club in Ingham County. The club boasted well over 50 members at times, including the Threadgould's children, and 15 volunteer project leaders.
"We did conservation, entomology — my son was very into entomology at the time — as well as flowers and vegetables," she recalled. "My daughter did sewing, although I didn't lead it … I was the administrative leader for quite a while."
"We had 50-60 4-H club members at one point. We always met at the Alaiedon Township Hall. It was a great place to meet. Our members exhibited their projects at the Ingham County Fair."
After Earl passed away in 2011, Suzanne created the Earl Threadgould 4-H Scholarship Award in his memory with annual gifts. This award provides an annual post-secondary education scholarship to an Ingham County 4-H youth.
"Earl was very passionate about the 4-H youth in Ingham County," said Glenda Weiss, Ingham County MSU Extension 4-H program coordinator. "Growing up in the 4-H program, I remember the encouragement he gave to strive toward goals such as state awards. This scholarship allows our current 4-H members to continue to reach their goals for their future."
By creating the Threadgould endowment five years ago, Suzanne has ensured an annual source of income for the Threadgould Award and other support for Ingham County 4-H for generations to come.
Suzanne decided to increase her investment in Ingham County 4-H by growing the Threadgould endowment with an additional gift in December. She opted to make this additional investment through an IRA charitable required minimum distribution (RMD) gift, commonly called the IRA charitable rollover. This type of gift allows donors aged 70½ or older to donate to charity each year by transferring an amount directly from an IRA to a charity, such as the Michigan 4-H Foundation, and thereby reducing their taxable income for the current tax year.
"I needed to give some money away and it was to my advantage to make the gift," said Suzanne. "I might even decide to do it again."
Now by investing in, and growing the Threadgould endowment, Suzanne has ensured the fund will continue to have an impact on many generations of Ingham County 4-H youth. To date, 11 Ingham County 4-H youth have received the Threadgould Scholarship to pursue post-secondary education.
Learn more about giving to 4-H, endowments and IRA charitable rollover gifts.