Across the state, county and globe, the novel coronavirus, the virus that causes the infectious disease COVID-19, has upended everyday life in nearly every way. In Michigan, families and communities struggle to adapt to closed schools and businesses while working to preserve their own health, well-being and sense of normalcy. For many Michigan 4-H'ers, lending a helping hand is part of that normal, and many have sprung into action to help their communities during this unprecedented time.
Across the state, 4-H'ers have many ways to serve their communities while practicing social distancing. Among them are:
• Kalkaska County 4-H member Amy Saxton issued a 4-H Dare to Serve Challenge for other 4-H'ers to join in her Cards for a Cause efforts, encouraging youth to send cards to individuals living in adult foster care homes not able to receive visitors at this time.
• Similarly, 4-H'ers in Lapeer and Schoolcraft counties are writing letters and cards of kindness to residents of local
senior centers and nursing homes.
• Alger County 4-H'ers volunteered to shop for seniors who didn't feel safe traveling to the store to purchase their groceries and other supplies.
• 4-H'ers in Delta, Eaton, Lake, Kalamazoo and Menominee counties have been sewing masks at home to donate to medical facilities in need.
• The Sebations, a 4-H family in St. Clair County, re-purposed a fair billboard thanking our essential workers.
"I continue to be impressed by the overwhelming generosity and creativity of our 4-H members, volunteers and staff across the state to continue the 4-H mission," said Jacob DeDecker, Michigan 4-H state leader. "Our 4-H community remains committed to helping one another, while still practicing social distancing as directed by local, state and federal agencies."
Youth aren't the only ones stepping up in this time of need. Many 4-H program coordinators have come up with creative ways to continue 4-H programming and to promote 4-H.
• Charlevoix and Luce counties created 4-H project bags and activity handouts to include in sack lunches distributed by schools.
• Calhoun, Kalamazoo and Schoolcraft counties sent 4-H activity kits to Cloverbud members (youth aged 5 to 7) with age-appropriate activities such as Science on a Stick, a basil seed planting kit, Be a Nature Detective, Fun Fit Hike, instructions on making an origami clover and some clover coloring pages.
• Alger, Antrim, Crawford, Eaton, Kalkaska, Marquette and Schoolcraft County program coordinators have moved short-term special interest (SPIN) clubs online to engage youth virtually in a variety of topics.
With a sudden halt to many crowd-favorite, statewide face-toface programs, Michigan State University (MSU) Extension staff members quickly converted and developed online content to serve the 4-H community. In addition, many new and exciting programs have been created to connect youth and families virtually with 4-H.
"In tough times, such as the uncertainty surrounding the current novel coronavirus pandemic, we recognize that accessing the vast knowledge and resources of MSU is more important than ever," DeDecker said.
Online sessions offered have included a variety of topics including Family Yoga, Basics of Credit for Youth, Writing Wednesdays and an Animal Science Lunch and Learn Lecture series. Several counties have also developed county-wide online scavenger hunts. In addition, a Lenawee County    4-H volunteer and teacher is recording chicks hatching and sharing videos online to teach embryology.
MSU Extension has assembled a collection of digital offerings and educational materials in a new Remote Learning and Resources space. Part of this resource pool is a compilation of helpful educational resources for parents and caregivers. To learn
more, visit https://www.canr.msu.edu/rlr
Abbey Miller – June 23, 2020
Over 6,052 cloth face coverings have been made by the Michigan 4-H community and donated statewide to those in need.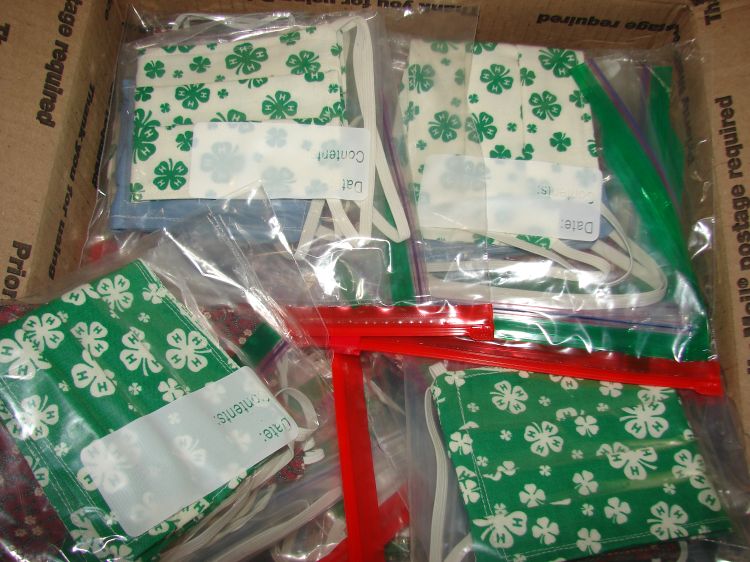 As the novel coronavirus pandemic, the virus that causes the infectious disease COVID-19, gripped the world, the Michigan 4-H community quickly stepped up to help. In early April, Michigan 4-H youth and families across the state began independently sewing homemade cloth face coverings and donating them to protect the public, essential workers and members of the healthcare workforce. Using basic sewing skills and a few simple supplies, 4-H youth and volunteers tirelessly crafted cloth face coverings in their homes to do their part in the fight against COVID-19.
"It's inspiring to see Michigan 4-H members and volunteers take the lead to address a real world problem by putting their hands to larger service to meet the needs of their communities," said Gary Williams, former Wayne County MSU Extension educator and co-coordinator of the Michigan 4-H Mask Project with Anne Kretschmann, MSU Extension 4-H program coordinator in Houghton and Keweenaw counties.
By mid-April, Michigan 4-H centralized these local efforts and created a goal to donate over 5,000 face coverings through the Michigan 4-H Mask Project. The 4-H community quickly met the goal and donated the masks to more than 25 different organizations, with a major shipment being sent to 11 City of Detroit Parks and Recreation food distribution sites. This helped to distribute cloth face coverings to low-income families in the hard-hit Detroit community.
"The cloth face coverings have been donated to over 100 locations statewide, including the Focus Hope Food Program and the Detroit Parks and Recreation Department's food distribution program," Williams said. "We're very proud that our Michigan 4-H members and volunteers have really taken this to heart and are making a large difference for so many people."
When Maggie Sans, vice president for community relations at Walmart, who is also an Oakland County 4-H alumna and National 4-H Council board member, learned of the Michigan 4-H Mask Project, she was moved to take action. Walmart Foundation made a $10,000 gift to support the Michigan 4-H Mask Project.
"Detroit was a hotspot of growth for COVID-19 and there was an urgent need to provide Detroit area residents with masks that would help them protect themselves and members of the community," Sans said. "MSU Extension and Michigan 4-H have a legacy of investing in our communities, engaging our youth in solutions, and delivering results."
The funds donated by the Walmart Foundation will be used to help expand this project with the purchase of additional fabric and elastic necessary to make the cloth face coverings, as well as support for distributing the newly made cloth face coverings to those in need and sending supplies to volunteer mask-makers across the state.
"With the support of the Walmart Foundation, we will be able to replenish the supplies of mask-makers across the state who have so generously donated their time and materials to create cloth face coverings for our statewide effort," said Amy Bonomi, former director of MSU Extension Children and Youth Programs. "We are grateful to Ms. Sans and the Walmart Foundation for their partnership on this important initiative."
In addition to the gift from the Walmart Foundation, $1,060 were donated by individuals for the Michigan 4-H Mask Project through #GivingTuesdayNow, a global day of giving and unity that took place on May 5, 2020. To date, more than 6,050 cloth face coverings have been made by the Michigan 4-H community and donated statewide. To help with the distribution, Michigan 4-H also partnered with the Michigan group Crafters Combating COVID. To learn more about the Michigan 4-H Mask Project, visit extension.msu.edu/MI4HMasks.
Cloth face coverings are among the strategies to protect against the spread of novel coronavirus recommended by the Center for Disease Control and Prevention (CDC). Please visit the CDC website for more recommended prevention strategies.